Harold Tan - Bartley Sec School
(
F9
to
A1
in 2017 GCE 'O' Level )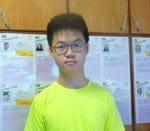 Mr Ling has developed my interest in POA. I only joined his class nearing the end of Sec 3. At that time, I did not understand why this is a need to learn this subject or why is this subject so difficult to study. However, after joining his class I suddenly felt POA was very easy and could be one of my best subjects. My grades in Sec 3 were F9s for POA, but within 4 months, by the time Sec 4 CA1, I had gotten B3. This motivated me to work harder and during Prelim 1, I topped the school for POA. This could not have been possible without Mr Ling's help.
Feedback from Harold's Mom:
We are grateful for Mr Ling's patience and guidance in helping my son achieve tremendous progress in his POA. He went for his first POA class in end Sec 3 feeling lost. But he aced his POA in his school Sec 4 Prelim under Mr Ling's coaching and his own hard work. He was not interested in POA at all but this turn out to be his favourite subject now. Mr Ling has the 'X' factor which makes my son do and complete his POA homework. Mr Ling is the best POA teacher, nurturing, dedicated and caring. Thank you, Mr Ling!