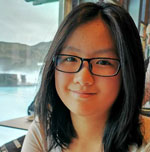 Joanne Tan - Paya Lebar Methodist Girls' Sch
( D7 to A1 in 2020 GCE 'O' Level )
Testimonial by: Joanne Tan - Paya Lebar Methodist Girls' Sch
For less than a year, I have had the pleasure of having Mr Ling's guidance in POA and have received a drastic improvement within a short span of time. He is a driven, strict and engaging teacher who never fail to put all his efforts into students' learning. He challenged me to consistently produce high quality work and patiently guided me misconceptions thoroughly, ensuring that I completely understand the concepts. The lessons and homework given are enlightening, eye-opening, while also promoting critical thinking. Before being enrolled in classes with Mr Ling, no matter how many times I tried to understand the various concepts independently, I was confused and lost; however, the concepts were suddenly easier to understand and grasp through Mr Ling's guidance.
During the COVID-19 pandemic, Mr Ling quickly changed the lessons' procedures to adhere to safe management rules. He was also prompt in updating all the parents and students about the change brought about by the situations. Surprisingly despite the constraints brought by the pandemic, lessons were still effective and engaging, Mr Ling continuously asked us various questions to test our understanding, which made all his students stay alert throughout lessons. He was efficient in returning marked homework, of which he highlighted the mistakes we made during lessons. Mr Ling's online classes were not compromised by the pandemic, thus making lessons just as fruitful and productive as face-to-face classes.
I was given an Edusave award as well as a chance for scholarship from Polytechnics, of which I owe my thanks to Mr Ling for my outstanding POA results.
Feedback from Joanne's Mom:
We are pleased with the teaching concepts applied by Mr Ling. The lessons are systematic and specifically targeting at the weak points of my child. The 1st lesson conducted by Mr Ling together with the parents was really helpful to give the idea of what's the tuition concepts, style and expectation.
Not many tuition centres are able to do that. It's important for the tutor to update the parents of the child's progress and the challenges faced. Mr Ling did just that. Very pleased with my child's progress from D7 to A1 under Mr Ling's care.