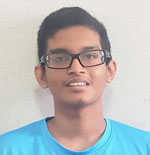 Lingesh – St. Gabriel's Sec School
( Ungraded to A1 in 2020 GCE 'N' Level )
Testimonial by: Lingesh – St. Gabriel's Sec School
For my subject combination for Sec 3, I was happy to get POA as my option. Throughout the year, I rarely passed any POA tests or exams. It's not that I didn't show any interest, I just could not understand the concepts. Although I tried many possible ways to improve, I still struggled. But after coming across Mr Ling's accounting tuition webpage (bestpoa.com), everything changed for the better.
Due to my school teacher's lack of experience, it was difficult for me to understand her way of teaching, therefore it took me some time to clarify my doubts and overcome my confusions. After attending Mr Ling's lessons, I started to love POA.
Mr Ling's teaching method is very unique and extremely effective. He covers the concepts and topics from the start and follows slowly according to the chapters, hence it didn't matter how badly I did in Sec 3. This gave me the confidence and encouragement to work even harder.
Even during the COVID situation, Mr Ling still puts in lots of effort to arrange tuition lessons for his students. As a student myself, I was motivated and driven to study hard and put in the effort because I was really impressed by his sincerity, despite it being converted to online lessons.
The homework practices Mr Ling gives me really helped me to push up my grades and understand the concepts even better. Mr Ling even prepares us efficiently for exams, knowing what sort of questions will be tested in the exams, having 30 years of teaching experience.
I would like to sincerely thank Mr Ling for his endless patience, efforts and sincerity.
Feedback from Lingesh's Dad:
I would like to thank Mr Ling for going the extra mile and having so much of hope and sincerity to teach the students. It is because of him that my son is now able to understand the concepts and do well for his tests and exams.