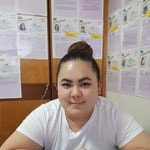 Natasha Eliza – Private Candidate
( No background to A2 in 2019 GCE 'O' Level )
Testimonial by: Natasha Eliza – Private Candidate
I came into Mr Ling's POA class with no background in POA as I took Art for my 'O' Levels the previous year. During my first few lessons I thought it was boring because it took a month or two to complete the foundations of accounting, but after a while POA is now my favorite subject.
Mr Ling's way of explaining the topics and relating it to real life contexts, has not only made me learn the topics easily but I feel that it has made me start thinking and learning about business operations in a more open minded way. Overall, you should join this class because honestly it is the one of the coolest and, dare I say, the best tutor ever.
Feedback from Natasha Eliza's Mom:
Natasha showed much interest in POA since the first day of her consultation with Mr Ling. His teaching methods definitely encouraged Natasha to excel in her studies. He has been a sowing grace as her school teachers have never been supportive in Natasha's studies. She has excelled in her studies and taken her lessons seriously with much dedication now. Thank you Mr. Ling for helping Natasha finds her passion to excel.