Sean Wee – Anglo-Chinese School (Barker Rd)
(
A1
in 2017 GCE 'O' Level )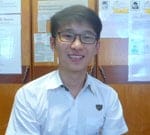 Mr Ling was able to help me understand accounting concepts fully, while making class fun and engaging at the same time. Mr Ling also went the extra mile to show me concepts and practices that are used in the working world to further broaden my horizon so that I would be able to understand the topics better and be able to link the topics together in order to see the big picture and accounting as an entire process. Mr Ling has also helped me to achieve the top position in my cohort twice, and I can confidently say that it would not have been possible without him. Thank you so much for everything Mr Ling!
Feedback from Sean's Mom:
Mr Ling, thank you for your patience and passion in teaching Sean in the last 2 years. You had helped him built the foundation, understanding and confidence in POA with your detailed explanations and real-life examples. Without all that, Sean wouldn't have been amongst the top in his school's POA exams. Thank you again for being a super tutor!